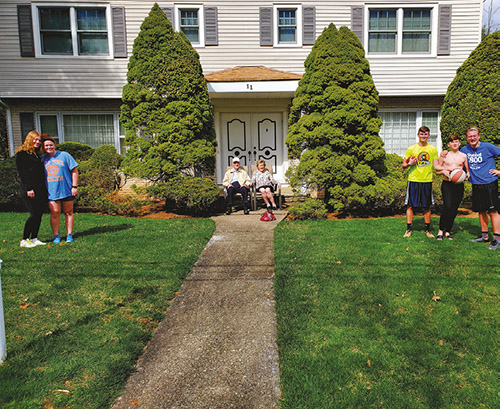 No, I'm not talking to a person. I'm talking to the house in which I grew up. After more than 50 years, my parents are moving out of our family home.
It's time, don't get me wrong. But … wow … I did not think about how bittersweet this whole experience would be. For all of us.
I am the oldest in my original nuclear family and this is the only family home I remember. We moved there when I was 3.
This is the home with more memories than I can fit into this article. But I'll list a few that come to mind.
It's the home where I watched "The Wizard of Oz" year after year, and made my dad come in to watch with me whenever the lion was about to jump out and scare Dorothy and friends.
It's the home where my brother and I got the best gift ever: not one but two younger siblings, a brother and a sister. It's like our parents planned it so we would both be happy. And we were!
And when those siblings got a little older, it's the home where we made up The Old American Game. I won't tell you what it is, but it still makes me chuckle.
It's also the home where we played Jet World. Has anyone other than my family ever heard of that board game?
It's the home where one winter, when we had gotten about two feet of snow (remember those days?) I was still determined to go to my friend's birthday party. I opened the garage door to shovel the driveway, only to discover that I couldn't even get outside to start the process.
It's the home where my grandma used to ask me when she should start "saving her pennies," I think for my upcoming wedding. Those conversations probably started before I turned 10.
It's the home where I learned to play the piano, not very well, but I can still play a couple of songs … "Heart and Soul," anyone?
It's the home where I eventually got a phone in my bedroom, with my very own phone number! That was super exciting back in the day.
It's the home where we magically grew a cherry tree in our backyard one year, and where that same cherry tree, just as magically, disappeared and has never returned.
It's the home where my grandpa might possibly have almost caused a forest fire in that same backyard when he was burning the chametz one year. I don't think there was any connection with the cherry tree that was/wasn't.
It's the home where a "special treat" was getting to eat in the family room. We would put a huge covering on the carpet before we brought in a table. It was always when we wanted to watch a special TV show. Sometimes we even made a fire in the fireplace.
It's the home where my mom made family dinners every single night. Salad and/or vegetable, potato/rice/pasta, protein. And we all ate together. I didn't appreciate it then. I wish I had. But I do now.
It's the home where we spent so many amazing family Seders, with family jokes that continue to this day. I will not tell you who always read the Simple Son, Wicked Son, etc. And we always enjoyed eating "bitter herb." (Of course we pronounced the "h" every year).
And the Seder songs … that was always our family's favorite part of the Seder. We couldn't wait, not because it was the end, but because we all got to sing together. It was a personal challenge to learn "Chad Gadya" in Yiddish, but I eventually mastered it (sort of), and today some of my kids are trying to learn it.
All in that same family home.
It's the home where I had both my bat mitzvah party and my Sweet 16 party … downstairs in the basement. Fun, casual, chill—exactly what I wanted.
It's the home with the white couch. The couch we can sit on, and maybe drink water or Sprite while we're sitting if we're lucky, but that's about it. The couch that will (sadly/not sadly) not fit in my parents' new home.
It's the home where I got to move my bedroom downstairs when my younger siblings got older. I loved having that privacy, and getting a TV in my bedroom for the first time.
It is also the home where my then-future-husband picked me up for our first date. It was a lunch date, so it was pretty short. And when I got home I remember my dad asking, "You didn't like him? You're home so early." Spoiler alert … I liked him.
It is the home where my then-fiance and I went right after we got engaged to share the wonderful news with my not-at-all-surprised parents.
It's the home where I tried really hard to learn to make my grandma's homemade gefilte fish. Let's just say that recipe lives on in our taste buds only.
It's the home where I surprised my mom when I brought our oldest son to visit for the first time. He was probably a few weeks old, and I remember how excited she was when she got home and we were waiting for her. It was the first visit of many, for him and his four siblings.
It is the home in which my grandma lived for five years before her passing. So we had her close by for all that time and she was able to spend a lot of time with us and her great-grandchildren, so the older ones now have many special memories of her.
It is the home where, even during the pandemic, we managed to make memories: outdoor picnics on the front lawn for Mother's Day, Father's Day and birthdays, complete with spray-painted messages of love in the driveway; just-because-we-love-you visits to cheer them up when they couldn't go anywhere during the lockdown days; Thanksgiving and Chanukah in the garage. Strange, yes. But special memories all the same.
It's the home where our kids had sleepovers, and undernights, and hangouts. Where our oldest brought his then-girlfriend/now-wife to meet his grandparents for the first time. Where our kids go when they want a little special attention that their grandparents are all too happy to provide.
Some people say a house is just four walls, a roof and a floor; and I guess practically speaking it is. But the memories and love that filled that house over the past 50+ years are what made that house a home. And I am going to miss it.
---
Jill Kirsch grew up in West Orange and lives three minutes from her childhood home. If you know anyone looking to move to West Orange, email [email protected]. Have I got a home for you!