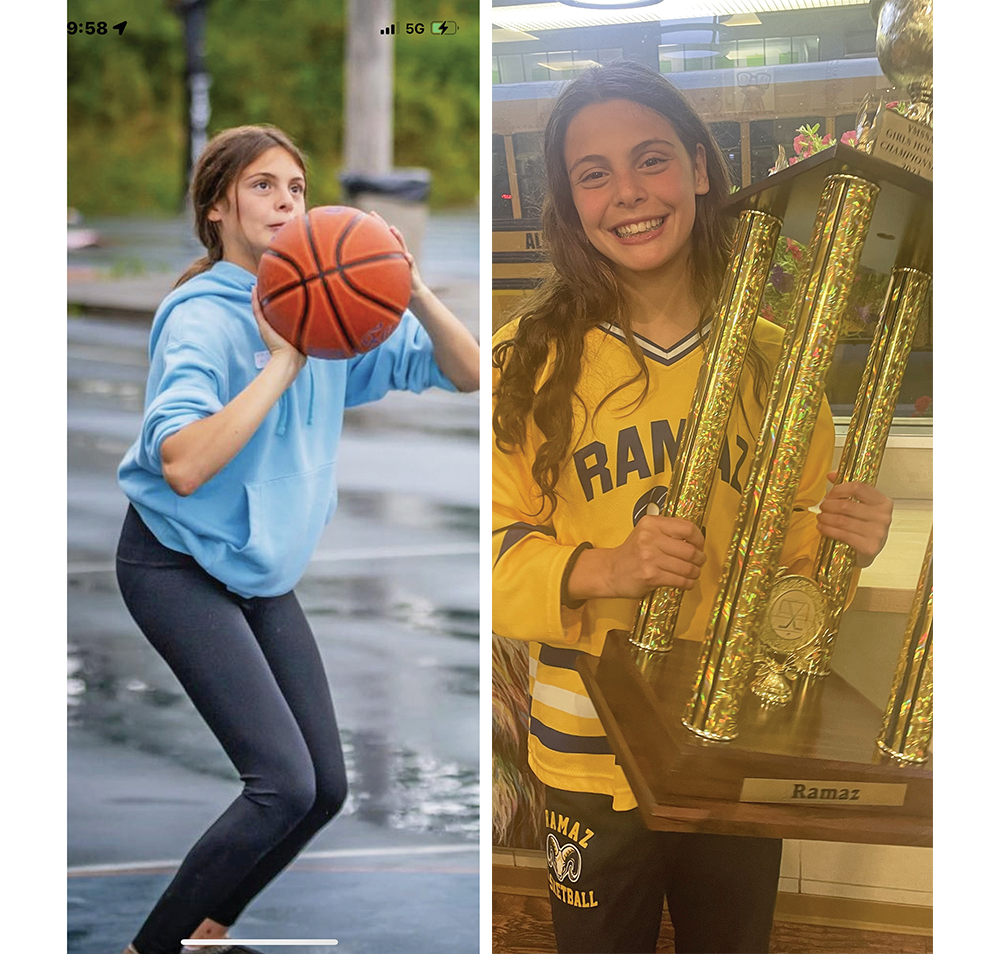 The Jewish Link and The Humble Toast would like to recognize Ava Cohen as this week's Sportstar of the Week. The eighth grader at The Ramaz School was a key contributor on the Rams YMSSA girls hockey championship team, last spring, a big winner at Hustle & Heart this summer and an accomplished flag football player. When asked about Ava, Ramaz Middle School Athletic Director Brian Kaplan told The Jewish Link, "Ava played a pivotal role in leading our girls' hockey team to our first-ever championship victory. Her determination, teamwork and skill on the court were instrumental in our team's success. In addition to her accomplishments in hockey, basketball is Ava's true passion. She has demonstrated exceptional talent and versatility on the basketball court, making her an invaluable asset to our school." Rabbi Chaim Hagler, Ramaz assistant head of middle school added, "She is tenacious on the court; very talented-both on her inside and outside game. Her teammates look to her for team leadership. Ava cares about her school work and growing in her Judaism."
Ava, Mazel tov on being recognized as this week's Sportstar of the Week! Who is your role model and why?
My older sister Grace. She influences me to be a good person and always tells me to be true to myself, not to follow the crowd and stand up for what's right.
What is your favorite sport and why?
Basketball is my favorite sport because it's all about being part of a team, and I enjoy the blend of playing offensively and defensively in a game.
What is your pregame routine?
I will do 10 form shots from different angles of the court and run sprints too.
Who is your favorite athlete and why?
Koby Bryant. He was an incredible athlete who worked hard all the time. And he always provided motivational advice to younger athletes.
What is your earliest sports memory?
My first sport was actually flag-football. No one wanted a girl on their team, so I was always picked last until they saw me play. I had to prove myself to get noticed and respected.
What is your favorite thing to do when you are not playing sports?
I really do always play sports but when I don't, I'll be spending time with my friends, listening to music or reading.
What is your favorite sports memory?
I have two. Winning the seventh grade hockey championship last year for Ramaz. As an incoming eighth grader it was exciting winning in a 3-on-3 tournament with 10th graders this past summer.
What is the best thing about being a Sportstar?
Seeing your hard work pay off. Whether it's practicing dribbling with your left hand or hitting 100 free throws, this commitment takes time away from other things. But I love it so much and love to apply all the new adaptations to my game and see where it works, where it doesn't and why.
The Humble Toast Star of the week will receive a $25 gift card to The Humble Toast. Please send nominees for an upcoming The Humble Toast Jewish Link Stars of the Week to [email protected].