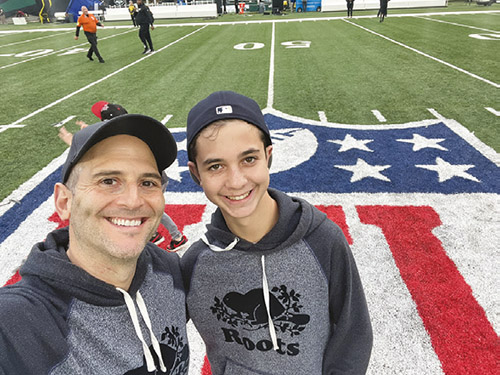 The Jewish Link and The Humble Toast would like to recognize Effi Billauer as this week's Sportstar of the Week. Billauer has earned the distinction as YMSSA statistician of the year, by stepping up to man the scoreboard in a pivotal first round playoff game. When asked about how much Effi means to the He'Atid basketball program, a representative of He'Atid Athletics told The Jewish Link, "Effi is always willing to help out however needed. Whether it is pitching in with the teams, setting up the gym or helping with the scoreboard, Effi is a truly dependable volunteer."
Effi, thank you for stepping up to help out and congrats on being recognized as this week's Sportstar of the Week! Who is your role model and why?
Ora Kornbluth, an official statistician for CBS Sports. It is something that I aspire to be as a current MGBL/Yeshiva League scorekeeper.
What is your favorite sport?
My favorite sport to watch is football because I enjoy the excitement of the game, the competitiveness between teams and rooting for the New York Giants!!
My favorite sport to play is basketball as I have played since I was in high school. I was a member of my junior varsity and varsity teams. I also played lots of pick up games with my friends and it is something that I do now with my kids.
Who is your favorite athlete?
Paul O'Neill. He always gave 110% every time he was on the field no matter what and as a right field bleacher creature, growing up, I loved watching him play at Yankee Stadium.
What is your pregame routine?
When I do the scoreboard I make sure to stretch my fingers and make sure my glasses are clean so I can see the refs and players during the game.
What is your greatest sports accomplishment?
Playing in a softball game when I was in yeshiva for the year, I was the center fielder. There was a man on third with one out and a deep shot was hit to me. I made the catch on the run and was able to nail the guy tagging up from third, from deep, deep center field, ending the inning and preventing them from tying the game.
What is the weirdest thing that has happened to you while playing sports?
When having a catch with my kids outside our house during Chol Hamoed Pesach, 2020, and almost getting arrested by the police for allegedly illegally congregating with others.
What is your earliest sports memory?
The 1983 Yankees/Royals Pine Tar Game.
What is your favorite thing to do when you are not playing sports?
Cooking.
What is your favorite sports memory?
Standing by a pay phone in Israel, with a bunch of friends, one of whom called his parents so we could listen to game six of the 1996 World Series when the Yankees beat the Braves to take the series 4-2!
What is the best thing about being a Sporstar?
I enjoy being involved in both MGBL and the Yeshiva Basketball League so that the kids are able to participate and develop their skills, something that was not around when I was growing up. By being a Sportstar, I hope that more people will continue to get involved and keep these leagues running!
The Humble Toast Sportstar of the week will receive a $25 gift card to The Humble Toast. Please send nominees for an upcoming The Humble Toast Jewish Link Stars of the Week to [email protected].
By Jewish Link Sports Desk