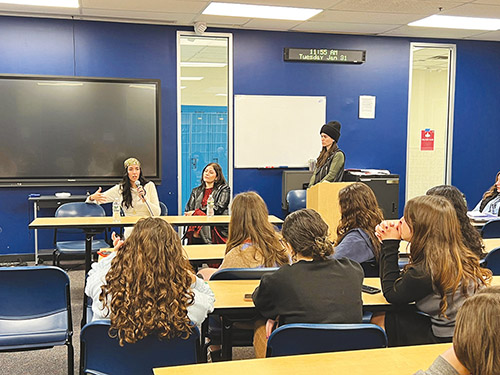 Any woman who likes stylish but modest clothing knows how hard it is to find that combination. It takes time and effort to scroll through fashion sites on the internet, or search racks of clothing at brick-and-mortar stores to find outfits with the right criteria. That frustration led two young Jewish women who loved fashion, and became Torah-observant as college students, to start The Reflective, a website and social media presence with curated links to outfits from a variety of sources, and soon to be a shopping destination itself.
Liza Sakhaie and Ariella Immerman (then Danielle) met as roommates at Neve Yerushalayim in Israel, where they went after college to deepen the connection to Torah that had been growing in their lives. They bonded through a love of style and fashion. Liza went on to a career at Bloomingdales; Ariella stayed in Israel.
When Immerman came back to the U.S. and Sakhaie was furloughed from Bloomingdale's, the two looked at what they could do together. Realizing how hard it was to find clothes they loved, the women launched a newsletter with tips on how to find and put together modest, fashionable outfits. They expanded to a marketplace concept on their website that has all the categories of clothing women look for, with affiliate links for purchasing. Starting this spring, women will be able to make purchases directly from the website.
The selection is broad to include all women who want to dress modestly, including women from other faiths. "We want to be an inclusive community focusing on ideas of modesty, and we value different perspectives," said Immerman. So don't be surprised if some styles don't meet your criteria; modesty can be defined in different ways by other groups.
Rebbetzin Sarah Proops, mashgicha ruchanit at Rae Kushner Yeshiva High School (RKYHS), has been following The Reflective for a while. She was impressed with Sakhaie and Immerman's selections, styling tips and commitment to dressing modestly in a way that was authentic to themselves without sacrificing their sense of style. She thought the girls at RKYHS would benefit from meeting them. "My job as mashgicha ruchanit is to give our students religious enhancement and guidance," she said. "I wanted to give them exposure to the Jewish value of dressing modestly, not talk about a dress code. I wanted them to see positive role models who showed that you can express your individuality through what you wear and you don't have to sacrifice style or being on trend."
She reached out to the right team. Although Rebbetzin Proops didn't know it at the time, making presentations to students about modest, stylish dressing is something the two women are doing regularly. They gladly accepted an invitation to visit the 11th- and 12th-grade girls at RKYHS on January 31. In their presentation, Sakhaie and Immerman talked about their journey to mitzvah observance and modest dressing in a question-and-answer panel. They brought outfits for the girls to try on and sashay down an improvised runway.
Immerman said the girls asked thoughtful questions. One asked about how to make choices, considering that clothing is expensive. She and Sakhaie advised the girls to build a wardrobe by investing in some good quality basics like a slip skirt and blazer, and not to overspend on trends. Change the look of an outfit by wearing it in different ways, like with booties or sneakers. Add another layer.
"They're used to seeing modest dressing in a restrictive way," said Immerman. "We talked about how they can authentically express modesty and style." The message was reinforced by emphasizing that the clothes The Reflective brought, and styles the partners include on their site, are sourced from mainstream retail brands with a variety of price points. Immerman and Sakhaie also brought photos of celebrities who dress in a modest way to show that the most fashionable women are including modestly styled outfits in their wardrobes.
Rebbetzin Proops said that hearing about the choices made by the two women to keep mitzvot and choose modest dressing was helpful to students, who at this age are exploring their own identity. "People struggle at different times, figuring out where they are and who they are. Ariella [Immerman] explained that modesty is not just about your hemline, it's your attitude, and behaving in a dignified manner."
Find The Reflective at https://www.the-reflective.com, and on Instagram https://www.instagram.com/the_reflective
By Bracha Schwartz