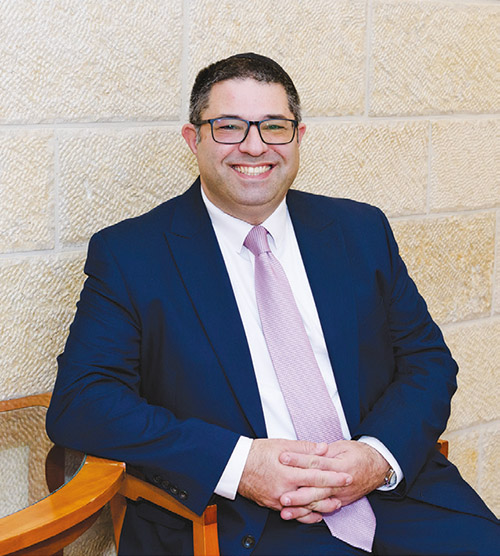 At 46, Johnny Solomon, originally from London and now residing in Even Shmuel in the south of Israel with wife Donna and five daughters, has created an innovative and vibrant category of rabbinical service. Utilizing social media, Zoom, Calendly, and his own website, "Rav Johnny"— as he is affectionately known — offers men, women and couples worldwide the opportunity to book hour-long sessions with him.
Much thought and consideration about the needs of the busy modern Jew has led Rav Johnny to this initiative that he launched three years ago. Rav Solomon credits the inspiration for this model of personal rabbinic connection to his childhood rabbi, Dayan Gershon Lopian, z"l. Dayan Lopian, the grandson of the illustrious Rav Elya Lopian, z"l was not only an exceptional Torah scholar and Halachic decisor, but also someone to whom anyone could turn to discuss questions relating to spiritual growth as well as Torah law. The Lopian legacy, very much in keeping with that of Harav Moshe Feinstein, zt"l, of whom Dayan Lopian himself was a close student, was to personally respond to queries about Halacha and spirituality with attentiveness and personalized counseling.
Based on this exceptional model, Rav Johnny offers three crucial services through his virtual rabbinics. He serves as a spiritual coach or "mashpia" to clients, offering them spiritual guidance, insights and support. He serves as a Halachic consultant, which is basically a posek who recognizes the need for questioners to be involved in the decision-making process by educating them toward reaching a psak that will work for them. And he is an educator who teaches Torah to anyone who is looking for a boost in their learning.
Rav Johnny comes to this endeavor from an impressive and extensive Jewish educational background. After studying at Yeshivat Kerem B'Yavneh in Israel, he returned to the U.K. where he earned a bachelor of science degree in math and religious studies. He also studied for more than three years as a major scholar at the Montefiore Kollel from where he received semicha from Rabbi Abraham Levy, Chief Rabbi Jonathan Sacks, Dayan Ezra Basri, and Dayan Saadia Amor. Beyond this, Rav Johnny held numerous senior educational positions including head of Judaic studies at Immanuel College and head of Judaic studies at Hasmonean's Girls School, in addition to participating in the Lookstein Fellowships for Senior Jewish Educators and the Ashdown Fellowships.
Since making aliyah in 2012, Rav Johnny has continued his professional development by studying for a master's degree in Jewish education and by participating in a number of enrichment programs including Maaglei Nefesh's rabbinical training course about the intersection of Halacha and mental health. Having taught in a number of different seminaries, he currently teaches Halacha and machshava at Midreshet Lindenbaum and Matan.
While already in yeshiva, Rav Johnny developed a passion for Halacha, and his expertise in She'elot U'Teshuvot, honed through the "shimush" he received from Dayan Amor and Dayan Lopian, as well as his depth of knowledge and sensitivity in rendering piskei halacha, have led many to seek him out for advice and psak. In fact, beyond his role as #theVirtualRabbi, Rav Johnny also serves as a joint posek to the Minyan Ashkenaz in Even Shmuel.
In terms of the need for his #VirtualRabbi services, Rav Johnny is motivated by the worrying number of Jews who are ebbing away from Judaism, both in North America and elsewhere around the world. He believes — like Rabbi Sacks — that if we have the opportunity to use technology to reach Jews and help them reconnect with their heritage, then we have the obligation to do so.
Yet while some of Rav Johnny's clients are non-observant, most are Modern Orthodox Jews who are seeking thoughtful spiritual and Halachic guidance which pays heed to the challenges of living as an observant Jew in the modern world. The question, of course, is why aren't those men and women speaking to their own rabbi? The answer is that they either don't have a rabbi, they don't have a relationship with their rabbi, they don't feel understood by their rabbi, or they don't feel that their rabbi has time to discuss whatever is on their mind.
Nowadays, what often happens in such a situation is that these individuals then turn to what some refer to as "Rabbi Google" to find the answer to whatever question they may have. But as should be obvious — and this is a point that Rav Johnny stresses — the whole notion of psak is that it is personalized. Consequently, those who try and self-pasken, especially just with "Rabbi Google" without appreciating the art of pesika, can often reach a Halachic conclusion that is wrong, and at times even harmful, for them and their situation.
Rav Johnny's #VirtualRabbi services use modern technology to offer a personalized and immersive service. When booking a session through Rav Johnny's website, the "client" is prompted to write what they would like to discuss in their session, and they are also asked whether there is anything that Rav Johnny should know about them or their background before their session. Once the session is booked, Rav Johnny prepares various Torah sources for the client. As a result, each meeting begins with a clear direction and reference to relevant Torah sources. At the same time, as the sessions flow and as Rav Johnny asks clients a number of probing questions, the issues become clearer and clearer as do the various appropriate suggestions or solutions. After each session, Rav Johnny sends every client a follow-up email with the sources that were discussed and a summary of any other point that arose in the session. Thus, a meaningful bond has been created and the questioner has, to quote Pirkei Avot, "Made for themselves a Rav."
The many client testimonials on Rav Johnny's website confirm the impact that he and his service is having. Still, as Rav Johnny himself observed, "undoubtedly, my inspiration as a posek is and will always be Dayan Lopian, zt"l, whose depth of Torah and sensitivity in psak was fused with a love and humanity for all. Yet while I do not claim to be even close to the level of my Rav and mentor, what I learned from him, as well as from my other wonderful teachers, continues to inspire me as I offer guidance as #theVirtualRabbi."
For more information about #theVirtualRabbi and how to book a session with Rav Johnny, visit https://rabbijohnnysolomon.com, email [email protected] or call or Whatsapp 052-603-0962
By Pearl Markovitz