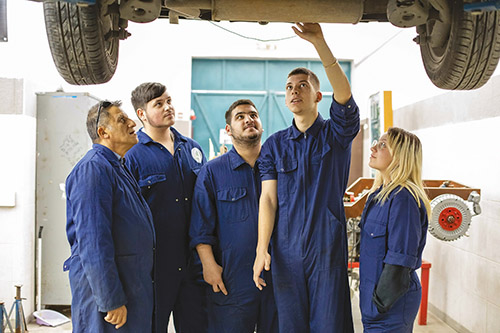 The first vocational school AMIT founded was Israel's statehood; now, AMIT has become a major provider of vocational training, with ten vocational centers across Israel.
Most students were born and raised on the country's social and economic margins and didn't flourish in more traditional academic settings.
"Students generally come to us after they've been thrown out of many other schools," explained Motti Arbel, director of AMIT's national vocational program. "Many of them are crushed by the system."
Since university degrees and the IDF are often not viable options, many of these children end up on the street, trapped in the vicious cycle of poverty into which they were born.
At AMIT's vocational centers, however, students learn a specific skill in tracks like tourism, industrial management, agriculture, system engineering, graphic design, photography, electrical, cosmetology/hair, advanced transportation, information technology (IT), administration, culinary arts, and carpentry.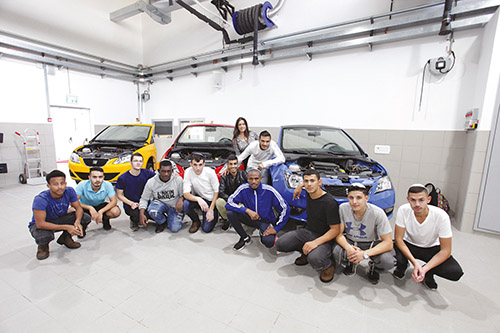 There are vocational schools in Jerusalem, Beersheva, Or Akiva, Ra'anana, Ashdod, Ramle, and Petach Tikva. Their mission is to provide solid career paths for students, and a future that encompasses more than just a profession but the promise of a meaningful life that lifts them out of poverty.
"AMIT's greatness lies in the fact that it's never been scared to try and help these children on Israel's periphery," declared Arbel. "If it weren't for these schools, so many of these young people would end up on the street, but we say to them: we are fighting for you, and we will not give up until you succeed."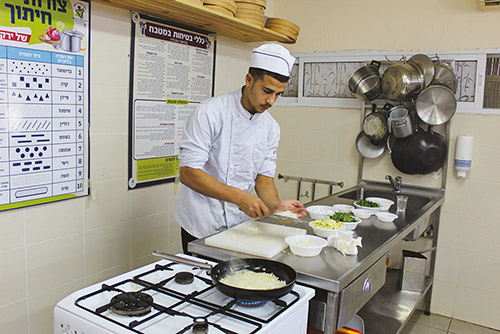 Evelyn Silver Kraut, of Fair Lawn, whose family dedicated the Elaine Silver Technological High School in Beersheva in Evelyn's mother's memory, visits the school regularly and marvels at the staff's ability to connect to students. "It's unbelievable the lengths that the teachers go to for their students," she said. "It's such an empowering place and it's easy to see that the genuine belief teachers have in their students really contributes to their success." Evelyn and her husband, Larry, dedicated the school with Evelyn's father, Dr. Walter Silver, z"l, and family including Morris and Sharon Silver, Ruth Cohen, Dassie and Marvin Bienenfeld, and Jinny and Jerry (z"l) Pinsky.
Kraut and her family chose to dedicate the Beersheva school because one of the early vocational tracks it offered was fashion, and Elaine Silver, z"l helped produce an annual fashion show for AMIT to benefit AMIT's students. When Kraut's niece, Chana Cohen Nussbaum, z"l died from breast cancer in 2017, the family dedicated an art studio at the school in her memory.
"We feel like supporting AMIT students are a natural extension of the values we hold most near and dear in our hearts," said Kraut, who still hosts an annual shiur in Bergen County on the occasion of her mother's yahrzeit on erev Chanukah with proceeds benefiting the Elaine Silver Technological High School.
As the director of the vocational school network, Arbel spends much of his time working with staff and students on weekly visits to the different campuses.
Donors visit, too, like Barbara Nordlicht of Lawrence, NY. Now 84, Nordlicht and her beloved late husband Jules, z"l, made a monumental gift in 2008 to name the AMIT Nordlicht Religious Technological High School in Jerusalem.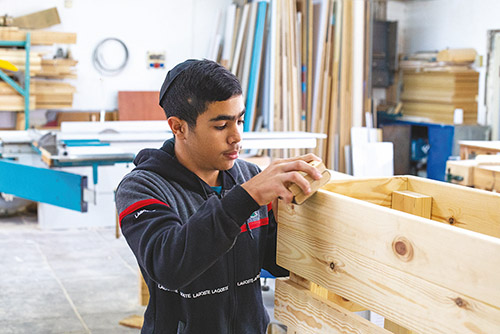 "My husband and I could have chosen to support any number of ventures, but we specifically wanted to make a difference for children from less fortunate backgrounds with more uncertain futures," said Nordlicht. "AMIT has done fantastic things, and on every visit to AMIT Nordlicht, Jules and I would hear from students who told us how much the school means to them. We would see the fabulous teachers, who really have all the kids' success in mind."
Nordlicht still visits the school on average once a year. When she was sitting shiva for her husband in Israel, a man she didn't recognize came to the door, but was hesitant to enter. She motioned him over and encouraged him to talk.
"This man told me that he came to be makir tov [recognize and respect] because he felt Jules and I saved his son's life," recounted Nordlicht. The man had lost his wife some years earlier, and his teen son was spiraling out of control. Then he enrolled at AMIT Nordlicht High School. "He told me that the school completely turned his son's life around."
Debbie Moed's family has been intricately tied to AMIT for generations. "From the time it was Mizrachi Women, AMIT's mission of building a strong state of Israel through educating its children, has resonated with my family," said Moed, of Englewood, AMIT's immediate past national president.
"My parents instilled in their kids, early on, the importance of education," said Moed. "They were huge proponents of vocational training, believing that it could empower children with the opportunities and confidence needed to strive and achieve more than they ever thought possible."
In 2018 the Gloria and Henry I. Zeisel and Family Junior College was dedicated at Kfar Blatt in Petach Tikva by Debbie's family: Gloria Zeisel, Cheryl and Abe (a"h) Kramer, Elliot and Mary Zeisel, Howard Zeisel, and Debbie and her husband, Sam Moed.
The family chose to dedicate this school where the signature vocational track is its automotive mechanics, since Henry Zeisel, the family's patriarch, was a machine tools dealer. "We felt it really tied into our family's values," said Moed.
Students who live at and attend high school in AMIT's Kfar Blatt Youth Village come from difficult socioeconomic backgrounds; their parents can't support them at this crucial time in their development. Many of these children end up studying at the Zeisel vocational school and junior college to prepare for the next phase of their lives. Armed with the advanced diagnostic tools they learned at the vocational school, they draft into the IDF with sought-after skills; many of them are placed in officer track positions.
Moed points to the arc of Moshe Uziel, the Zeisel school's principal, who grew up from an early age in the AMIT system and worked hard with AMIT's unwavering support to get to his current position in life. Moshe served as an officer in the IDF, went on to achieve an advanced university degree, and is now a loving husband and father in addition to being a successful professional.
"When parents are unable to nurture their children's dreams, AMIT steps in to fill that critical role," said Moed. "AMIT helps these children actualize goals and give them a future they never knew existed."
By Tova Cohen