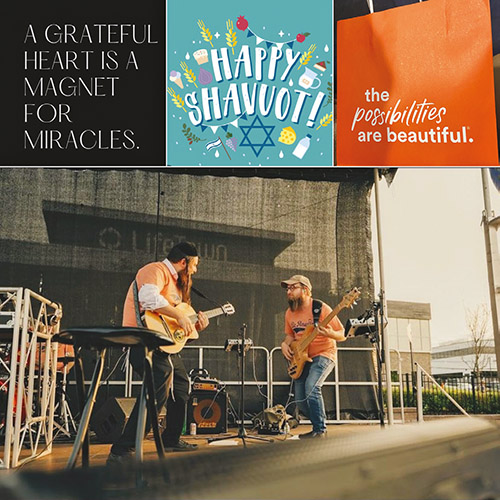 We can hardly believe we're up to Shavuot. "The count" has been fruitful as we look forward to the big day with a variety of cheesecakes in hand, LOL, ice cream a la mode and ready to receive our Torah anew.
Talented musicians have tirelessly put out great new music post-Lag B'Omer, as well as live performances. The Great Hakhel Parade in Crown Heights, where my son Joey Newcomb took the stage, was very special with everyone celebrating. He then joined Nissim Black at a New Jersey concert fundraiser as well as "passing the mic" to special guest Ethan Donn, a talented former product of the Friendship Circle come full circle.
Disclaimer: There is no AI/Chat or artificial anything in our writing or anywhere around us. Real deal only. Our trusted assistants make sure there are no infiltrations or distractions, gratefully. genuine connection welcome.
We in the music world realize the accountability and responsibility we are granted. We literally have the power to influence and impact others, each in our own way. Music is a comfort to searching souls.
A rabbi who is a widower came to speak with us, aiming to glean hope regarding second-marriage success. Thankfully, the effort we invest in our relationship, family and home is palpable. It's never too late to begin again as well as to invigorate a healthy long-term marriage. First things first.
Sruly Green's new "Thank you Hashem" album "Koach Hayisraeli" boasts really good variety with something for everyone. He also put out a musical tribute to Michoel Schnitzler entitled "Beautiful People." The "Lag B'Omer Upmix" track was great fun. Speaking of Lag B'Omer, The Shteible in Highland Park held a grand bonfire. Music-filled celebrations are always our cup of tea. We plan and join events that include music. Travel is on the horizon this summer, both national and international. As fun-loving, avid lifelong learners, we enjoy sampling local music at our destinations, including various languages, genres and eras.
Shavuot joins Shabbos as this year's double delight. Mendy Worch's cheerful new song "Good Shabbos" is a great one to play while preparing for Shabbos and YomTov. The music video includes kids making it perfect for a family affair. Gadi Fuchs released "Menucha." Zusha put out "The World to Come." The Thank you Hashem ladies have been busy as well. Shaindel Antelis' "It's All From You" is a beautiful reminder. She's joined by the Thank you Hashem girls. Precious children hold a special place in our hearts musically and otherwise.
We plan to keep active this summer at the gym, swimming, power walks and bike riding, which always elicits comments from delighted onlookers in our neighborhood, including the cute kids on our block who call out, "Hi neighbor!" LOL. You know who you are. Adding music to activities bumps everything up a notch.
May we all celebrate community in unity and enjoy a beautifully meaningful Shavuot. Thank you Hashem!
---
Al and Sarah (Newcomb) Gordon own and operate 1640 WJPR, a unique radio station in hybrid format out of Highland Park/Edison, New Jersey. Al has been dazzling Radioland with his voice and personality for decades. Sarah, a writer, realtor and therapeutic healer, is new to radio and new to the Gordon household. Together they hope to blaze a unique trail utilizing their special koach, impacting their children, grandchildren, community, many fans and all others as intended from above, one song and one smile at a time. #TYH Nation YOU matter! They can be reached at: [email protected].