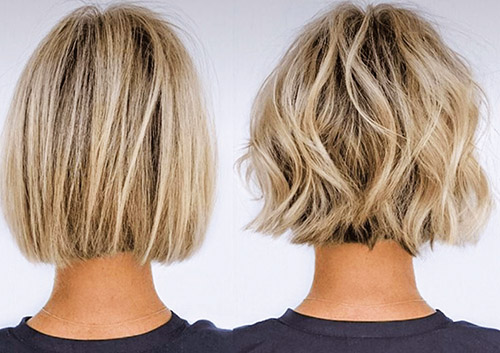 Amidst all the dark and cold days, it can be hard to imagine that spring, is just around the corner. In about 7 weeks we will all be sitting down at the seder table. The flowers will start to bloom, and the sun will be shining once again. In the wig world, the weather shift, is a sign that it's time to retire your darker heavier sheitals, and replace them with vibrant colors, thinner caps, as well as lighter airier cuts and styles that welcome in the sunshine. If you would like a new wig, or update an existing wig, now is the time to get it done so that it can be perfected just in time for Pesach.
With haircut inspirations all over social media, there are endless options for your spring 2023 look. Hair cuts referencing the 90's looks, will be the most popular this spring. Long hair, with more layers, voluminous blowouts, and long, grown-out curtain bangs will be seen the most this coming season. Movement, and tons of shine in the hair, are celebrity stylists goal this season. The bellow are the top stylist most asked for cuts this season.
1. French Bob- If you're looking for a loose and lived-in take on the classic bob, the French bob is your answer. The French bob is the same shape as the blunt bob, cut in a looser, more organic fashion. It is cut with crown layers, and some tousled bits that frame the face. This cut works well with hair that has natural texture. It looks great on curly, wavy, or straight hair. Crown layers are key to giving it a bit more volume. This length is a cute look, if you tend to tuck your hair behind your ears. Make sure to remove the earflaps in the wig to accommodate the hair tuck behind ones ears.
2. 90s Mid Length Cut—The 90s mid-length haircut consists of curtain bangs, with layers throughout the back, and length just below the shoulders. Since the layers in this cut will give the wig a lot of lift and volume, its important to use only a professional wig stylist for this cut. Too much density and volume, can overwhelm some face shapes. A professional wig stylist will be able to adjust this cut based on the wigs density, and use it to enhance the clients face shape.
3. Textured Mid Lob- The textured mid lob, is longer then a chin-length bob, but shorter then an on-the-shoulders lob. Typically in regular hair, this cut is a very high maintenance look, as it needs constant trims to maintain this ideal length. However choosing this length on your wig, gives you the ability to have the chic style, with out any maintenance.
4. Broken Bobs- Broken bobs are classic bobs, with a heavy bang, and use layers to give it that broken-up shape. Having a full bang in a wig, is the best way to make a non lace top wig appear natural.
5. Curtain Bang Layers- If you have a long hair wig, and want to retain the length, while trying something new, try an over-exaggerated curtain bangs, that will falls into its longer layers. The 2023 version, is where the longer layers start with the curtain bang, and work their way down. Longer layers, is one of the most versatile looks. It works for so many face shapes, and it can be styled and textured in numerous ways, so that many different types of looks can be achieved.
6. Long Shag- The long shaggy haircuts have lots of layers which creates movement in the wigs hair. This cut is great for your older fuller sheitals, that were made too thick, heavy, and dense. Finish this cut with a beachy wave or a blow out style for a modernized version.
7. 70s Layers- Flowy, 70s-inspired long layers with a soft bend, is all about creating movement from within. Hair that is all one length, gives off a heavy look, with little movement or style. However, if that's a look you like, an experienced wig cutter, will cut the wig with internal subtle layers, to give the wig more dimension and natural movement. To hold the style in between wash and sets, strategically place round velcro rollers, the night before.
8. Chunky Bob- The chunky bobs are a big trend on the spring/summer 2023 runways. The 2023 bob is the opposite of longer layers. It's a blunt cut right at the jawline or chin. On the runways, it is being styled with either a sleek look starting at the crown of the head, or with a slight wave toward the bottom.
---
Sari Friedbauer is the owner of Sari's wigs, located in Teaneck NJ. She is a licensed cosmetologist and certified wig maker. She is available for consults and can be reached via text at 2016945319. follow her on Instagram @sariswigs for her latest updates