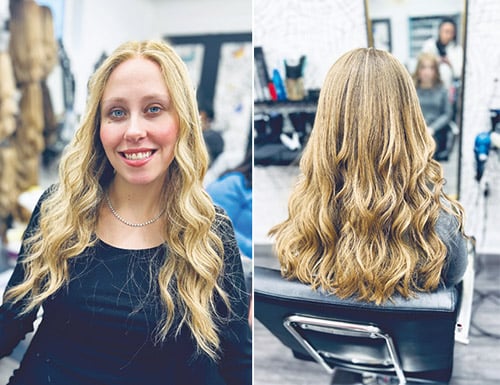 With the arrival of warmer weather, and with Lag B'Omer just around the corner, wedding season is about to take off! My phone has been ringing off the hook with excited kallahs who are eager to have their very first sheitel appointments. This is one of my most favorite times of year.
I love meeting and working with kallahs. It is such an honor and privilege to be a part of this special time in their lives. As they share their wedding details, I get a sense of their style, and help them to pick out pieces that look both natural and beautiful on them, while also being comfortable and practical for their lifestyles.
Top tips to make wig buying easier for kallahs:
1. Choose your sheitel macher/wig stylist wisely:
This is the most important decision, as it will shape your entire sheitel-buying experience. Choose someone who has a lot of patience, and truly enjoys working with kallahs. When booking an appointment, be sure to tell them you are a kallah, so they can allot extra time to teach you about the different options available.
The relationship you establish with your sheitel macher will hopefully be a long-term relationship. Make sure it is someone you feel you can communicate comfortably with. A kallah should feel completely comfortable expressing her opinions and needs so that she is happy with the end result.
2. Do not over buy:
Although this piece of advice is bad for business, I must out of good conscience advise it! The best is if every kallah can start with two options. Often pieces need to go for repairs, washing or other servicing, and having just one piece will make the timing of that very difficult. After a few months of covering her hair she will know what she likes and needs, and more purchasing can be done then. Buying too many pieces before knowing what she is most comfortable in, often leads to regrets.
3. Consult with your chatan and rav before the appointment:
The kallah, along with her chatan and rav, has to decide how much hair she wants to cover or leave exposed. Your sheitel macher is not a halachic authority and should be nonjudgmental. She is there to help you facilitate covering your hair according to your level of choice. Whichever way you choose, she will help to make it look as natural and beautiful as possible. How you decide to cover your hair will help to determine if you are looking to buy full wigs, pony wigs, falls, hat falls, yarmulke/kippah falls or other options. Make sure the person you choose has plenty of options available to you.
4. Avoid sales:
Enticing ads with attractive sale prices are seen everywhere and are hard to ignore. Do not fall into that trap! Every kallah I know who bought at a sheitel sale regretted it. The savings ended up costing them more in servicing and repairs. Since they have no experience with what to look for, and what works for them, they unknowingly bought pieces not suited for them. Save the sales for when you are more experienced and know exactly what to look for!
5. Book your appointment as soon as you get engaged:
Especially if you are considering a lace-top wig, you need to book your appointment right away. Lace-top wigs often need customized hairlines. To create these natural-looking hairlines, each hair is sown in by hand, one hair at a time. It is extremely time-consuming work, and can take six to 10 weeks to complete. Some kallahs, especially those with unique colors, textures and low hairlines, book their wig appointments before they get engaged, to ensure the wig is properly completed before their wedding.
6. Leave your entourage at home:
Some kallahs feel the need to bring their moms, sisters, cousins, aunts, mother-in-laws to be, friends and sister-in-laws with all their babies! I honestly believe regardless of COVID-19, when a kallah walks in with an entourage, it makes it much harder and more confusing for the kallah. There is so much information the new bride has to process and make decisions about, and having too many people around is too distracting. Bring your mom or one trusted friend/sister. Not only is this safer for everyone, but you will leave the appointment calmer, happier and more knowledgeable.
7. Leave educated:
I explain to kallahs: Having a great wig is like having a gorgeous Chanel lipstick. The product can be amazing, but knowing how to properly put it on is key. Since each hairline and head shape is unique, it's important to show the kallah how and where to place the piece so it looks most natural, and is comfortable. Depending on the type of wig, and which style the kallah chooses, she needs to leave her appointment educated on how to properly care for her wig. She should be told which products to use to best maintain her desired look. It takes some time to master learning how to put on the sheitel and properly wear it, so be sure to leave extra time when getting ready for your sheva brachot.
8. Be patient:
Every new wig is a new experience, and each wig has its own break-in period. That is the time needed to get used to the wig and figure out all the little nips and snips that still need to be done. A kallah, especially, has more of this break-in period, as she does not yet know what she likes. So kallahs, moms of kallahs, and especially chatans, be patient and supportive. With time, you will figure it all out.
Kallahs who keep these tips in mind will be sure to have a simple, positive and enjoyable first time sheitel-buying experience! Wishing a big mazal tov to all you beautiful kallahs, and may you all have a lifetime of happiness!
---
Sari Friedbauer is the owner of Sari's wigs, located in Teaneck. Sari is a licensed cosmetologist and certified wig maker. She is available for consults and can be reached via text at 201-694-5319.