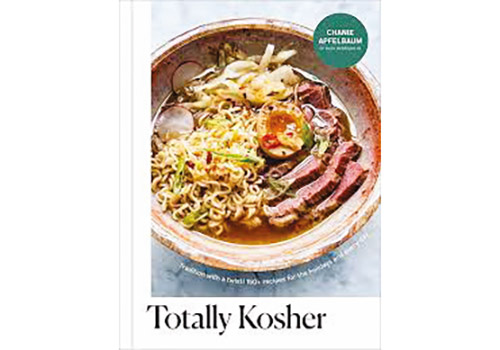 If you're anything like me, the end of Pesach meant you were officially done with cooking and menu planning for the foreseeable future. Having made just about every recipe in my repertoire and quite a few new ones l'kavod Yom Tov, all I could think about as I was getting my house back in order was that I didn't want to see food ever again.
But all that changed the minute I picked up Chanie Apfelbaum's new cookbook, Totally Kosher. Flipping through the pages a day after Pesach, I started rethinking my plan to live on Greek yogurt for the next month, because once again, the creator of the Busy in Brooklyn blog has assembled a collection of recipes that are fresh, fun and inspired.
For those of you who aren't familiar with Apfelbaum and her style, it is anything but same-old, same-old. She is the person who started the Hasselback salami craze years ago, with kosher cooks everywhere dutifully slicing their bullets of salami between chopsticks before glazing and baking them, transforming them into slivers of sweet and salty deliciousness. Her 2018 Millennial Kosher cookbook had the guy at the fish counter in my local kosher supermarket wondering why dozens of people were suddenly coming in and asking for cubed sushi-grade ahi tuna, not realizing that they all needed it for the same recipe – Apfelbaum's sushi nachos – which, by the way, make a fabulous Shabbos morning appetizer.
But while Millennial Kosher was a little more avant-garde, Totally Kosher takes a slightly different approach, veering more towards practicality while still maintaining Apfelbaum's reputation for trendy and inventive fare. A Clarkson Potter publication, it is a collection of over 150 awesome recipes whose appeal goes far beyond the kosher market, with personalities including Food Network's Molly Yeh, Food & Wine's Justin Chapple and a pair of New York Times bestselling authors (Daphne Oz and Jake Cohen, to be specific) penning words of praise for Apfelbaum's recipes, all of which appear inside the book's front cover.
Because Totally Kosher is intended for a wide audience, it opens with a rudimentary explanation of the laws of kashrus as well as the difference between food that is Jewish and food that is actually kosher. Recipes here range from updated versions of Jewish classics to kosherized renditions of foods that were previously off limits, (think portabella mushrooms taking the place of the traditional meat in Apfelbaum's Philly cheesesteak.) The book's list of top ten ingredients to create new possibilities in kosher cooking is invaluable, giving readers the ability to up the flavor quotient of these recipes as well as others with a few well-chosen items, with Apfelbaum recommending nutritional yeast as a stand in for parmesan cheese in meat dishes and full fat coconut milk as a heavy cream dupe.
In addition to the helpful tips, hacks and dinner planning advice, Totally Kosher's 15 chapters cover just about every meal or occasion. The final chapter titled "You're So Extra!" is a treasure trove of goodies to make your meals shine, with a full selection of toppings, dressings, dips, spreads and spices. Making items like Apfelbaum's za'atar garlic dressing, chimchurri and coffee rub aren't just a money-saving moves – the fabulous taste of these flavorful items will have you wondering why you ever bought them in the first place when they are so incredibly easy (and inexpensive) to make at home.
There is really something for everyone for just about every occasion in Totally Kosher. Deli lovers can rejoice with kishka dogs, a decadent riff on corn dogs with a kishka-y batter, or take a walk on the healthy side with deli pinwheels, a healthier version of the ever popular deli roll that can be easily assembled on Shabbos morning. You can expect nachos bassar to be a real crowd pleaser, with the bold flavors of roasted chickpeas and spiced beef served on a bed of pita chips blown out of the water with Israeli salad and sumac-accented red onions. With summer on the way, Apfelbaum kisses
boring salads goodbye, serving up a stunning beet and citrus salad, with candy-striped Chiogga beets, pink grapefruit, fennel and orange slices sharing the plate with roasted red and yellow beets and a fun citrus shallot dressing. Equally enticing are a summer slaw made with grilled corn, peaches and sugar snap peas, and a dairy arugula salad starring roasted delicata squash, Medjool dates and crumbled feta cheese. I haven't tried the totally pareve enoki pulled beef yet, but it is definitely going on my to-do list, as are the challah kugel waffles, the latter because baking anything in a waffle iron totally takes it to the next level. And if you, like me, are stumped by what to serve for Shalosh Seudos on those long Shabbos afternoons all summer long, you are going to love Apfelbaum's sabich salad, a plated version of the popular Israeli street food.
Noodle kugel gets a facelift in Totally Kosher, served up as latkes with bourbon raisin jam, while the typical brisket is updated with a unique blend of Ethiopian spices that can be made mostly with spices you probably already own. Because dishes like potato kugel, gefilte fish, challah cholent and stuffed cabbage are classics for a reason, they show up here with minimal if any embellishment but I can assure you that they still have plenty of flavor. Proving that incredible eats don't have to be complicated, Apfelbaum's picture of a five ingredient cowboy steak (six ingredients, actually, if you count the optional chimichurri sauce) looks good enough to eat, while her everything green beans and za'atar smashed brussels sprouts come together in practically no time.
As for desserts, it's hard not to fall in love with Apfelbaum's colorfully striped mandelbroidt, which look a lot like biscotti but have a much softer texture and the almondy goodness of bakery rainbow cake. Having seen for myself that getting your kids hooked on cooking is an investment that pays incredible dividends, I loved that there are recipes here that will get the younger generation excited about whipping up some really fabulous treats. Both the homemade Bissli, made with pasta and a generous assortment of spices, and the honey mustard and onion pretzels, made with the small pieces at the bottom of the bag that no one ever wants to eat, will have chefs of all ages turning out incredible snacks. And don't forget to put together a double recipe of the frozen peanut-butter stuffed dates; dipped in chocolate and topped with crushed pretzels and salt flakes, they are truly delicious and I dare you to stop at just one.
Boldly walking those fine lines between timeless and modern, simple and sophisticated, healthy and indulgent with ideas that are fresh and delicious, Apfelbaum hits her second home run with Totally Kosher, a great book full of ideas that is more than up to the task of pulling you out of the post-Pesach cooking doldrums and ready to conjure up a seriously yummy culinary storm.
---
Sandy Eller is a freelance writer who writes for numerous websites, newspapers, magazines and many private clients. She can be contacted at [email protected].
---
Peach Cornmeal Crisp
Serves 8
When it comes to fruit crisps, it's summer > winter for me. I love playing around with different seasonal fruits to create a bubbly crisp or cobbler for dessert, but stone fruits are my jam (pun intended!). You can use peaches, plums, or cherries for this crisp. Just sweeten it to taste depending on the tartness of your fruit. The cornmeal in the crisp topping adds a wonderful texture and color to the crisp that just screams summer, and paired with ice cream, it's a decadent dessert worthy of your BBQ feasts.
2½ pounds peaches (5 medium), halved, pitted, and sliced ¼ inch thick (do not peel)
¹⁄3 cup plus 1 tablespoon (packed) dark brown sugar, divided
2 tablespoons bourbon
1 tablespoon cornstarch
½ teaspoon freshly squeezed lemon juice
¾ teaspoon kosher salt, divided
¾ cup all-purpose flour
½ cup yellow cornmeal
¹⁄3 cup refined coconut oil, softened
¼ cup granulated sugar
Vanilla ice cream, for serving
1. Preheat the oven to 375°F.
2. In a large bowl, toss the peaches with ¹⁄3 cup of the brown sugar, the bourbon, cornstarch, lemon juice, and ¼ teaspoon of the salt. Place the peaches into an 11-inch baking dish.
3. In a medium bowl, combine the flour, cornmeal, coconut oil, granulated sugar, remaining 1 tablespoon brown sugar, and remaining ½ teaspoon salt. Mix with your fingers to form crumbs and sprinkle over the peaches.
4. Bake for 45 to 50 minutes, until the fruit is bubbling and the topping is crisp and lightly browned. Remove from the oven and cool for 10 minutes before serving warm with ice cream.
5. Cover leftovers with foil and refrigerate. (It may turn soggy.)