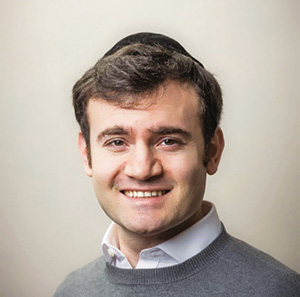 (Courtesy of Touro University) Suicide and suicide attempts are rising in the U.S. Last year, according to the CDC, approximately 12.2 million adults considered suicide seriously, 3.2 million planned a suicide attempt, and 1.2 million attempted suicide.
Now researchers at Touro have developed a new approach to help in the recovery of people who have attempted suicide. The therapeutic model, published in BJPsych Open, focuses on helping individuals find meaning and purpose in their lives. Similar personal recovery approaches, which help people live fulfilling lives and make positive changes in self-perception, are used in treating addiction and trauma, but there has been limited research and clinical focus on personal recovery approaches for attempted suicide. Most current treatments focus on preventing or reducing suicidal thoughts and treating depressive symptoms.
"Though safety is of course critically important, clinicians and family members can't merely focus on whether suicidal people live or die, we have to bring meaning into their lives," says lead researcher Yosef Sokol, PhD, an assistant professor in the new PsyD program at Touro University School of Health Sciences and research scientist at the Bronx VA Medical Center. Sokol is also a musmach of Yeshiva Bais Yosef.
With the help of a nationwide expert panel that included individuals who have attempted suicide, psychologists, psychiatrists and researchers, the researchers at Touro and the Veterans Affairs Medical Center used all the available literature to develop a model of recovery.
Seven Foundations of Recovery
The model, using the acronym COURAGE, has seven components:
Choosing life is the process of making a cognitive and emotional decision to live, which enables an increase in interest in life and hopefulness.
Optimizing identity is the process of developing a sense of oneself as a valued individual with a coherent life story. This process may include developing self-confidence, self-esteem, a clearer life role, and a "post-suicidal" identity in which the suicidal episode itself is seen as a source of personal growth.
Understanding oneself is the process of developing an understanding of oneself through reflection on one's life history, emotional reactions, behaviors, strengths and weaknesses. This process often includes learning about one's unique pattern of developing increased suicidality and moving toward personal recovery.
Rediscovering meaning is the process of discovering purpose and meaning in life, and enhances future-oriented beliefs and builds psychological resilience. For many, engaging in religion and/or spirituality provides a sense of community and higher purpose.
Acceptance is the process of feeling accepted by others and accepting one's internal contradictions, pain and misalignment with others. Feelings of acceptance often emerge in the context of a safe environment in which to securely discuss negative thoughts and experiences.
Connectedness is the process of developing quality relationships with family, friends and community, which can decrease loneliness and increase a sense of belonging, feeling valued, gaining faith in humanity and reintegrating into society. Support from others on a similar recovery journey will help engender a deeper sense of reintegration, belonging, and connection.
Empowerment is the dual process of developing internally focused skills (self-expression, self-compassion and emotion regulation) and externally focused skills (empathy, hobbies and career-oriented abilities). This process often includes developing the knowledge and courage to seek and accept professional help.
"Taken in a general sense, these seven COURAGE processes span the scope of human life—what it is to live, grow, and find meaning and purpose," the authors wrote.
Building a Meaningful Future
"All the different processes seem focused on building a meaningful life story with a future based on the person's values," said Sokol. "People are suicidal when they don't feel like they have a worthwhile future they can access. If you can work with them to build up the concept of a future, and what can give their life meaning, they can do much better. When you help them create a more positive narrative and change their perceptions of themselves and their future, you can help them move along a path of recovery."
Using the seven domains, therapists can help people clarify which ones are important to individuals. The domains can also be used to develop an assessment of where people are in their recovery journeys, what their individual needs are, and how to best help them on their personal recovery journey.
Study authors hope that COURAGE will lead to the development of recovery treatments for people who have attempted suicide and help improve the quality of life for those struggling with suicidality. Sokol has also developed a new psychotherapy that aims to help with each of these recovery processes
"Unfortunately, severe mental health difficulties including suicide affect the Jewish community as well," said Sokol. "The COURAGE model considers the important role that religion and spirituality can play in one's recovery journey. It emphasizes the importance of connectedness and community, as well as the value of developing a personal identity that is in line with one's religious and cultural beliefs. I'm working with a team of clinicians and community members to adapt the therapy which I originally developed for veterans to make it culturally sensitive to our community, and to train clinicians in the community to pilot it and ensure it fits the needs of Orthodox Jews. Once we see it is working, more therapists will be trained to help as many members of our community struggling with suicide as possible."
He also noted, "This model can be used to help family members and people who are close to people struggling with suicidality. In addition to helping with risk for suicide and seeking to connect them with mental health providers, family members can support them by helping them find something that is meaningful to them, ways to connect with others and feel productive."
For community suicide resources visit https://www.reliefhelp.org/request-a-referral/ or 988, the national suicide lifeline.