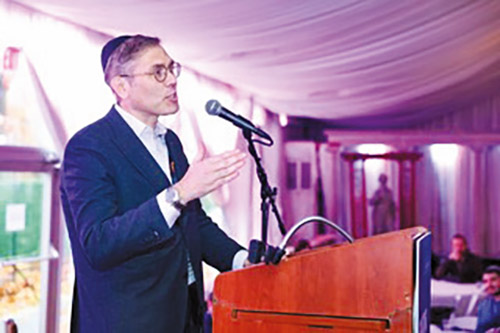 (Courtesy of TribeWorks) Imagine an event with over 450 entrepreneurs, renowned speakers, 25 vendors displaying their services, invaluable networking and delicious food, all in one place. Now you can imagine what it was like being at the third annual TribeWorks networking event on December 7 in Staten Island.
Coming back to a live event after three years of hibernating during COVID, this year's event was lauded by most as the best ever. With the theme "Starting and Scaling a Business or Non-Profit," there were renowned speakers in each of those categories. In total, there were over 25 great speakers including top industry leaders such as keynote speakers Yehuda Shmidman, who owns the Toys R Us brand among many others, and Ira Zlotowitz, who has a one of the top 10 startups as rated by LinkedIn and has run businesses with revenue over $5 billion. The program also featured Noam Wasserman, the dean of the YU business school; top executives in the retail and e-commerce fields; some of the top LinkedIn experts worldwide; and some of the top non-profit leaders from organizations such as the OU and Agudah.
Organizations offering free mentoring, interest-free loans, employee recruitment, finance, technology, media, high-end consulting, and non-profit activities discussed available services and information that captivated the crowd during more than two hours of formal networking. The contacts and business support from this event will lead to tremendous growth opportunities for both those businesses and the folks they service.
The sounds of "Can't wait until the next one" could be heard as the day completed and people reluctantly started leaving.
This event is just one of the services of TribeWorks, a one-stop umbrella organization of 18 highly recognized nonprofits that provide financial services to 50,000-plus individuals around the world. Tribeworks services feature job-seeker sites, direct connections to mentoring, interest-free loans, training, job placement and much more.
For more information on Tribeworks, check out their site at tribeworks.org.
See you online and at the next event.