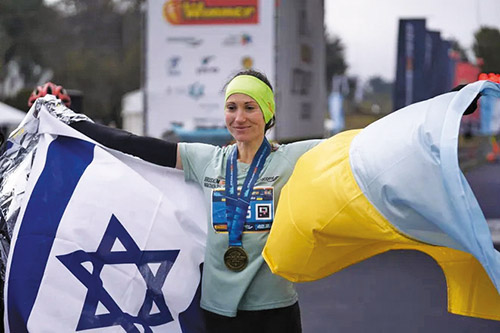 Over a year ago and just one short month following Putin's invasion, Ukrainian marathon runner Valentyna Veretska escaped, becoming a refugee along with her 12 year old daughter, Alisa Kiliarska, while her husband, Pavlo, remained behind to serve in the army. They initially escaped to Poland, and surprisingly just 10 days prior to the Jerusalem Marathon, she received the invitation from organizers to participate, who also offered to host her. Although Veretska hadn't trained for many weeks, Pavlo encouraged her participation. The rest, as they say, is history!
Veretska gained international marathon attention when she finished first, winning the women's division of the marathon, and second overall, training in old beat up sneakers, the only shoes she owned. She shared that when the Jerusalem race manager realized she was using a hair dryer to dry her training shoes, he came back with a brand new pair of shoes for her, the shoes which carried her through the race and to the finish line!
Following months of personal upheaval in the Ukraine and Poland, she and her family are now reunited and have since settled in Staten Island, learning to adjust to a safer and more promising life. Alisa loves her new school, and they are in the process of trying to get the credentials they need to remain in the United States.
During an exclusive interview last week, hosted at Congregation Rinat Yisrael by Transcendent Active 'althiesure' wear designer/owner Aja Cohen, Veretska came to Teaneck to share her amazing story, and to meet Cohen for the first time following months of communication and support via social media. Cohen described the discovery of Veretska on social media last winter, and how they stayed in touch ever since. Cohen came to realize that Veretska was not only a refugee from a country at war, but an elite athlete with an astonishingly "amateur" competition wardrobe. As we have hauntingly heard numerous times in our own recurrent history: "They left with only the clothes on their backs…"
Cohen subsequently sent Veretska custom made swag bearing the blue and gold colored Ukrainian flag and stayed in touch with her throughout several additional competitions. Veretska was invited and continued to compete in other events, championing her vision of peace in the manner of a true champion.
In Israel she personally received a special souvenir pin from Moshe Lion, the mayor of Jerusalem. She both humbly and proudly wears that pin on her training tops, along with an infectious smile when she explains her appreciation of how she got it. At the finish line in Jerusalem, she joyfully displayed both the Israeli and Ukrainian flags, one on each arm, eliciting enthusiastic cheers from the spectators, mostly Israelis, who passionately relate to the idea of the underdog coming through with a surprise victory.
Veretska's 2:45:54 marathon completion time is impressive on its own. In and of itself it's not close to a world record time, but her victory is a beacon of triumph in the face of other unthinkable odds, coming from a country besieged by a war it didn't provoke, as the clear underdog who has stood firm against the bully of bigger budget and weapon assets. Our solidarity is compelled because "we get it."
Veretska said that Cohen knew she had basically nothing, and offered to send some of her products. But she never imagined that Cohen would also customize and color them to fit her country and her cause. She has been training and competing in this gear ever since, and now is able to dedicate time to training for upcoming races such as the New York Marathon, and hopes to return to Jerusalem in March. Veretska donates part of her winnings to various Ukrainian charities, and spends time coaching others.
"Sunflowers in the Night," a music video documentary produced by Andres Useche was inspired by Veretska and released on Feb. 24. The Foreign Film Festival feature includes numerous cameo appearances of Veretska's competitions holding the Ukrainian flag, collaged with scenes of devastation from the war. The video can be viewed online using its title in your browser.
Veretska said she was heartened by how completely they supported her.
The event was also attended by Cheryl Hall, from the Teaneck interfaith community, and Nadia Hosein, from the Teaneck board of education.
By Ellie Wolf