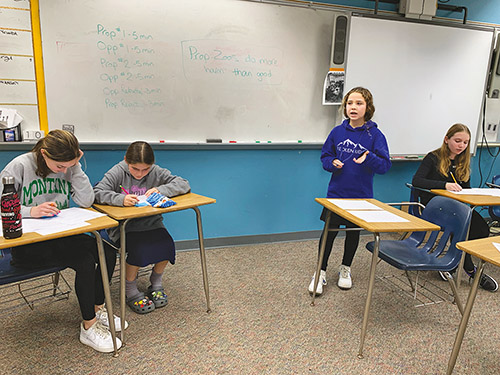 Among the many electives that WDS middle schoolers considered this fall, sixth graders had a new option: Public Speaking and Debate. Public speaking skills are known to correlate with future success and a group of WDS sixth graders have elected to begin preparing for their future successes by developing their oratory skills.
Over the course of the semester, students gained proficiency at impromptu speaking, integrating a variety of public speaking skills in five-minute speeches. Students practiced grabbing an audience's attention, holding that attention and enhancing the spoken message through nonverbal gestures and movements.
Students rounded out the semester by combining their new oratory skills with a favorite pastime; debating. Elective participants squared off in a parliamentary-style debate with a topic of their choice, the societal value of zoos. As parliamentary debate allows for questions by the opposing team, all students were engaged, building competence in argumentation, critical listening, note-taking and analytical skills.
Watch out for these middle schoolers, whether winning their next classroom debate or presenting in future boardrooms!