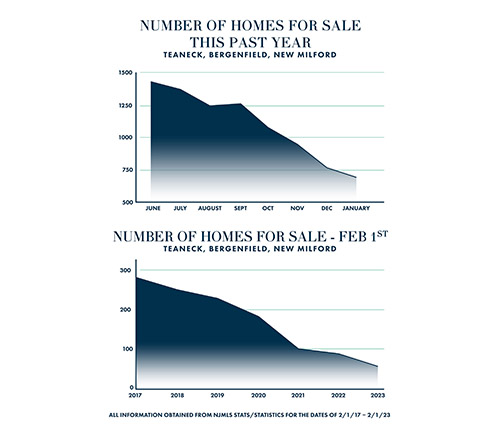 With the conclusion of yeshiva/yeshivish week many families who dedicated precious time and resources on the planning and execution of beach vacations from the Pacific to the Mediterranean will now turn their focus to the spring housing market. Oddly enough, there may be more similarities than one would expect between these two phenomena. Winter break vacationers were faced with never before seen, insanely high hotel room prices coupled with unexpectedly low availability. Buyers searching for homes this spring should anticipate much of the same. The dearth of inventory cannot be overstated.
This week's statistics will show just how drastically homes for sale have evaporated from the market. Bergen County is experiencing eight straight months of declining inventory with a drop of over 50% of homes for sale, as compared to what was available this past summer. Our own immediate area of Teaneck, Bergenfield and New Milford is experiencing much the same. Whatever the lifestyle and or market trends that are to blame, it is of note that this continued downward trajectory of housing stock began its march years before the Covid pandemic of 2020. One theory that we intend to explore on these pages is the prevalence of tri-state area residents owning a second home. With so many houses increasingly being occupied by "part time" residents who in former generations would have sold the "family home" to move to a retirement location, could this be one of the driving forces behind the ever shrinking market?
---
Nechama Polak is the broker of record and owner of V and N Group LLC located at 1401 Palisade Ave in Teaneck. [email protected] 201 826 8809.