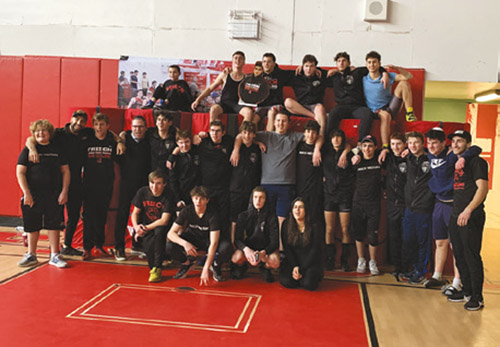 After a two year Covid induced hiatus, the Wittenberg Tournament returned to Yeshivat Frisch in Paramus this past weekend. There were 12 high schools represented from five states—SAR, MTA, TABC, Frisch, Maimonides, Ida Crown, North Shore, DRS, Flatbush, Kushner, Ramaz and Atlanta Jewish Academy—with 110 total wrestlers, held across 2 days.
Since it's a Jewish tournament, participants weigh in Friday morning and then do not weigh in again on Sunday so they are able to eat whatever over Shabbat. The three out of town teams spent Shabbat together at a hotel nearby in Fairlawn. Over the past two years COVID decimated many of the programs, so only a handful of wrestlers at this year's tournament were at the last one in 2020.
Yeshivat Frisch took home the first place team award for its seventh overall Wittenberg championship, but its first since 2010. Ida Crown, the all-time Wittenberg leader with eight first place finishes, took home the second place trophy this year, while SAR finished as the number three team.
The individual winners and their schools are:
Gabriel Klein (106) Ida Crown; Menachem Reed (113) Ida Crown; Jacob Landa (120) SAR; Izzy Meth (126) TABC; Baer Cheslow (132) Frisch; Sammy Mermel (138) Frisch; Akiva Sokal (145)
Frisch; Mendel Balashav (152) MTA; AJ Horowitz (160) Frisch; Zachary Abraham (170) SAR; Arnold Ginsberg (182) Kushner; Jonah Danzer (195) Frisch; Eliyahu Najman (220) SAR; Gordon Teitel (285) SAR.
Special award recipients:
The Dominator Award is given to the wrestler with the most pins in the least amount of time. This year's dominator award was earned by Frisch's Nathan Fenster.
This year's most outstanding wrestler award voted on by all the coaches was shared by Frisch's AJ Horowitz and SAR's Eliyahu Najman.
Each year one wrestler is nominated from each team for embodying Torah values and hard work and apply for an award that honors the former Yeshiva University Captain, Aryeh (Captain Lou) Zinkin and comes with a $1800 honorarium for continued Jewish education. This year Frisch's Akiva Sokal took home the Zinkin Award.
When asked about what the return of Wittenberg means to high school wrestling, Doug Klein, head wrestling coach at Ida Crown Jewish Academy in Chicago, told The Jewish Link "Over the last quarter century, the Wittenberg Tournament has been the focal point for Jewish high school wrestlers nationwide. Its absence the last two years because of the scourge of COVID has been a tremendous loss for each one of these wrestlers. The chance to achieve high school sports glory cannot be repeated. In that light, the return of the Wittenberg Tournament is a reason for celebration. This year's edition was a spirited affair and will, no doubt, inspire the post-COVID generation to continue their efforts in the sport." The Ida Crown Aces had their best performance at Wittenberg since their win in 2012, as they took second place this year, with 13 of their 15 wrestlers placing in the tournament.
Yeshiva wrestling is in a growth period whereby each program is working to reintroduce the sport to high schoolers as well as new high school administrators. More new yeshiva wrestling programs are in the works in various places, including Florida, and schools are in search of wrestling coaches in the Miami and Boca areas.
By David Siegel and Ezra Kapetansky