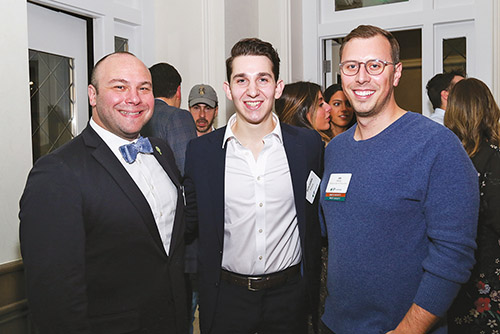 (Courtesy of JNF) On January 26, over 100 young professionals from the Tri-State area celebrated Tu BeShvat, the original Earth Day, with Jewish National Fund-USA at an elegant cocktail party in New York's Ronald S. Lauder JNF House. Attendees learned about the impact the organization's philanthropic investments are having on the land and people of Israel, including supporting the planting of over 260 million trees and 250 water reservoirs.
In addition to the enviro-focused festivities, Jewish National Fund-USA tree certificates, which celebrate the planting of trees in Israel for any occasion, were available on-site for purchase. Trees can be planted in honor
or in memory of a loved one or a pet or to celebrate a lifecycle event. The certificates serve as the perfect gift for Tu BeShvat, which inspires acts of land conservation and environmentalism. Jewish National Fund-USA Tree Certificates can be purchased for Tu BeShvat and all year long at jnf.org/trees.
"Jewish National Fund-USA is one of the most important organizations that's having the greatest impact on the land and people of Israel, literally making the desert bloom for all her residents," said event co-chair Rebecca Reich. "I'm fortunate to co-host this event for Tu BeShvat, tying in one of our most well-known initiatives, afforestation, with the holiday's values of environmentalism and sustainability."
"Tu BeShvat is the 'Original Earth Day,'" added event co-chair Ben Pincus. "The cultivation of green space and farmland that Israel has managed to achieve is astounding. I have seen firsthand the impact Jewish National Fund-USA has had on these areas, made all the more remarkable given the arid environment! Our event served as an opportunity to highlight the importance of trees, yet it was also a great opportunity to shed light on the other nation-building initiatives that we support."
To learn more about JNFuture, Jewish National Fund-USA's community of young professionals ages 22-40, contact Michele Rabinovich, Associate Director, JNFuture, Tri-state at [email protected] or 212.879.9305 x506.