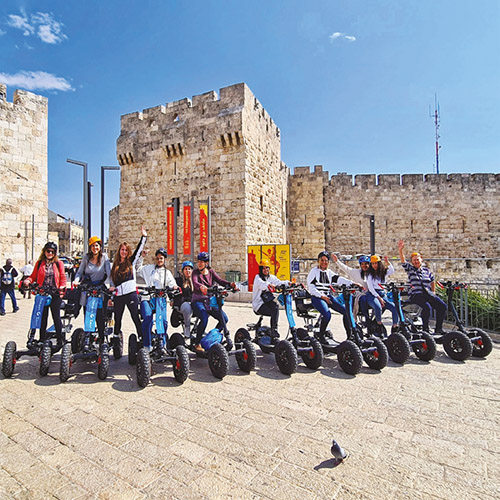 If you're looking for the perfect family activity on your next trip to Israel, check out Smart Tour, where you can hop on an EZ Raider or a city bike for a fun and unique way to experience Jerusalem.
Smart Tour offers several different options that all come with experienced tour guides. Tours typically run about 1.5 hours and can accommodate groups of up to 22 people. For groups larger than that Smart Tours can easily split them up and run parallel excursions allowing participants to all meet up together at the end.
For those wanting to see some of Jerusalem's more popular tourist attractions, Smart Tour offers The Classic route, which starts off right next to the King David Hotel at their shop. Visiting some of the most famous historical sites in the world, riders will head to the storied walls of Jerusalem's Old City, through the Jaffa Gate and swing by the Tower of David. Along the way, they will visit numerous other attractions and then head back to Yemin Moshe and Mishkenot Sha'ananim all while hearing about the fascinating history, stories and meaning behind the places.
If you're looking to experience some of Israel's more natural terrain, hop on an EZ Raider and take The Panoramic Tour. Cruise along the Armon Hanatziv Promenade while enjoying breathtaking views of the city and the Judean Desert.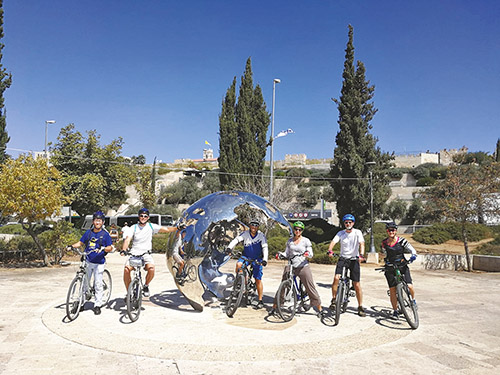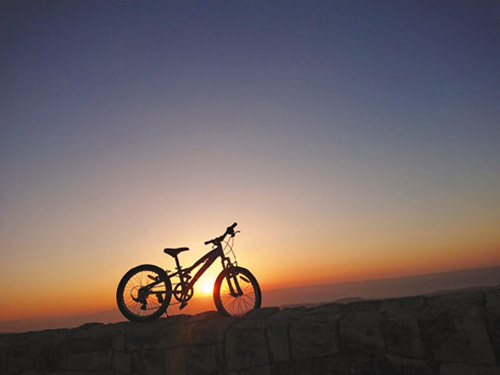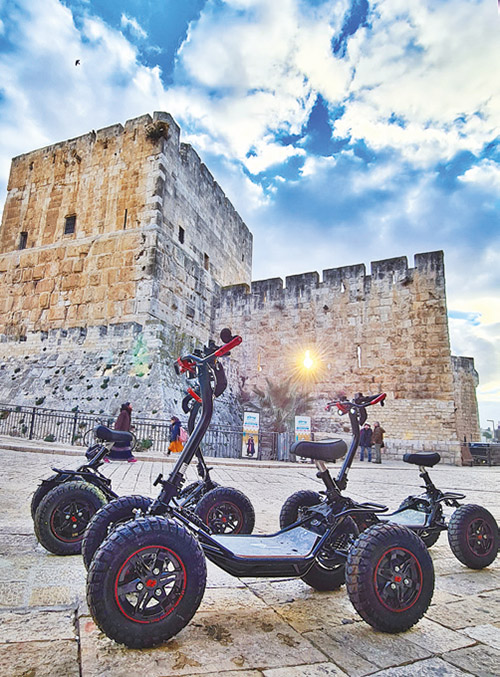 Also be sure to check out the Sunrise Bike tour. Amichai Warter, owner and founder of Smart Tour, said, "I'm saying this with a lot of confidence, it is the best biking tour you will ever do. It's an amazing tour. You have to get up early but it's so worth it to see the Old City at the crack of dawn and it's silent and then you reach the roof of King David's Tomb and see the sunrise…it's just beautiful."
Smart Tour can also take you on an authentic culinary experience through the Machane Yehuda Market, complete with yummy tastings of some of the most delicious delicacies in the world. Be sure to ask also about Smart Tour's chocolate-making workshops, wine-tasting excursions and Tel Aviv bike tours.
Established by Amichai Warter and his brother Natan back in 2008, Smart Tour began when the two brothers started giving Segway tours to numerous couples. The tours proved to be hugely popular and before long they were booking tours for families, groups and even corporate events, giving tours to thousands of people from their fleet of Segways.
In 2012 they had merged with their competitor-turned-good-friend, Assaf Polivoda, and took prime space in Jerusalem's First Station renting Segways and bikes. By 2017 Smart Tour had started supplying Smart Bike rental stations for many hotels and businesses throughout the country. Last year they swapped Segways for the latest invention out of Israel—the EZ Raider. Far more safe and user-friendly than its predecessor, the EZ-Raider is the perfect, eco-friendly ATV designed exclusively for city streets. For maximum fun on four wheels, riders can seamlessly cruise around the city on sidewalks, bike paths and through its many parks. Sitting or standing, EZ Raiders allows people to take in all the magnificent sites the city has to offer at comfortable cruising speeds. It's especially ideal for families with young children, allowing adults to ride with their kids on a seat in the back.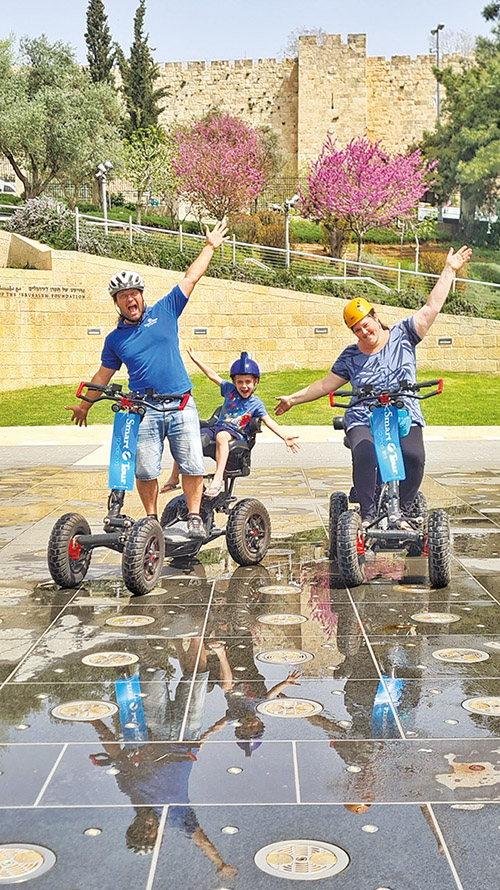 Now, because of nearby construction on Israel's Light Rail system, Smart Tour has relocated its operations to the heart of the city at 2 Washington Street, right across the street from the very centrally located King David Hotel. But you can still pick up one of their bikes at the First Station.

So hurry now to book the time that works best for you. Spots are filling up fast. Drivers must be 16 years or older. The cost is 299 NIS and kids between the ages of 3 and 15 can ride in the back for half price. Book online now for a 10% discount and get an extra 5% off when you use the QR code from the ad in this paper. Children need to be booked directly with the company.
To enjoy your next Israel adventure with Smart Tour, visit https://smart-tour.co.il/?lang=en, or email them at
[email protected]. You can reach Smart Tour at +972-2-5618056 or WhatsApp at +972-58-6480334.
By Jewish Link Staff