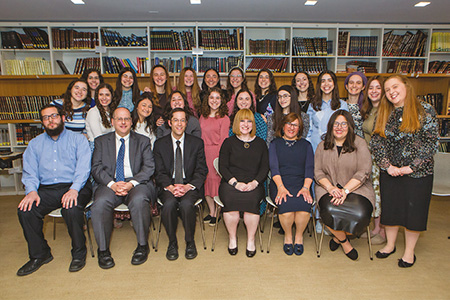 Communities bring GPATS student-scholars to share Torah during shabbatons.
(Courtesy of YU) Thanks to a new scholars-in-training shabbaton program, the women of YU's Graduate Program in Advanced Talmud/Tanach Studies (GPATS) are bringing their Torah knowledge and the GPATS mission to communities near and far. This year, 12 communities have hosted scholar-in-training shabbatons.
"We are so proud of our scholars-in-training model, which brings the Torah of our GPATS women to a wider audience than ever before," said Nechama Price, director of GPATS. "Bringing GPATS students to a synagogue or school is an acknowledgement by the Modern Orthodox community that women play an important role in imparting Torah knowledge."
Not only do communities benefit from the program, enjoying a fresh perspective on Torah scholarship, students benefit from this unique experience in their pursuit of careers in Jewish communal service. The model brings up to four students for a Shabbat, and each student delivers at least one shiur or drasha; in some communities, the experience extends through motzei Shabbat and Sunday.
During the mid-May shabbaton, the Rinat Yisrael community of Teaneck, led by Rabbi Chaim Strauchler, welcomed three GPATS students. The students delivered all five drashot in the morning minyanim, including one for teens, and one student delivered a shiur between Mincha and Maariv on Shabbat afternoon. "The students were a wonderful addition to our Shabbat," said Rabbi Strauchler. "We look forward to welcoming them back in the near future."
In early May, four GPATS students and two faculty members were hosted by four synagogues in the Chicago community for a two-neighborhood shabbaton in West Rogers Park and in Skokie. Organized through the Chicago Institute of Women's Learning of YU's Torah Mitzion Kollel of Chicago, the multi-tiered, fully programmed weekend included a panel discussion, drashot and multiple shiurim given by GPATS students and faculty.
Many synagogues are also hosting GPATS students on a monthly basis as part of the GPATS-in-residence program.
"As powerful role models for Modern Orthodox women who are instrumental in the advancement of Torah, our students influence the broader community wherever they go," said Shoshana Schechter, dean of spiritual life at Stern.
GPATS is growing in other ways as well; it added a shana gimmel to its two-year master's degree program, and launched a new online learning program called "Inside the GPATS Beit Midrash" to provide expert, in-depth analysis of core Jewish texts. People from across the world join the classrooms of renowned faculty and alumni of GPATS as they teach six-part courses online in Gemara, Tanach and halacha.
As the school year draws to a close, next year's calendar has already begun filling up with requests to bring the GPATS shabbaton model and GPATS-in-residence monthly visiting scholar programs to communities across the country.
To learn more, visit www.yu.edu/gpats  or email [email protected]