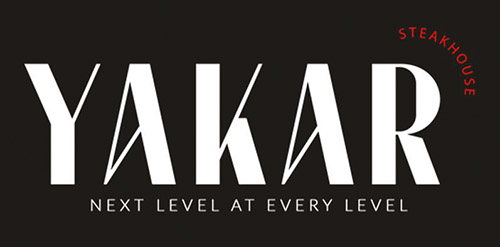 Coney Island Avenue between Avenues J and K would seem like a great place to open a kosher restaurant. That's probably why there are about 25 places in a three-block radius. But when Bakar opened in 2019, it couldn't have seen the pandemic coming. A high-end steakhouse with a beautiful interior, Bakar got hit hard as a place where takeout and outdoor seating weren't great options. But after it reopened, one of their regular customers was someone the owner knew as a fellow restauranteur with high-end experience. After some discussion, the two agreed to a sale.
Though the new owner was obviously a fan of Bakar, he felt that the staff and menu could use some changes. The name of the restaurant (much like the classy ambiance) was kept almost exactly the same, as the new ownership changed Bakar (meaning cattle) to Yakar (meaning precious). Since reopening in November, the place has gained a reputation for making virtually everything in house, only using top quality meat, and dry aging on site.
When I was invited to check out Yakar, I was somewhat surprised to see a Charcuterie Board on the menu. While different types of meat boards have become more popular recently in the kosher world, they aren't usually on restaurant menus, let alone at a high end place like Yakar. One reason I'd suggest ordering the board is that you can do it as soon as you sit down and it'll hit your table within mere minutes.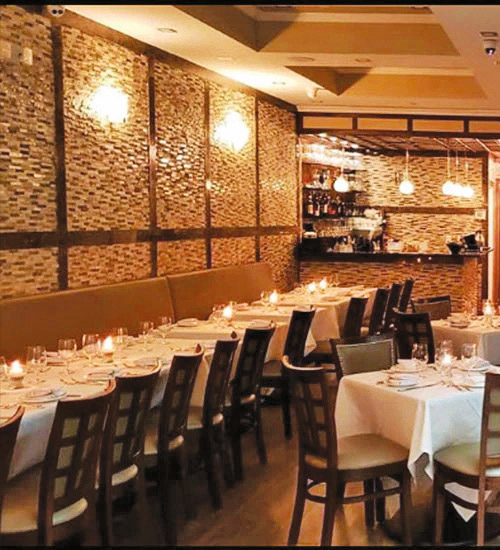 The board features homemade meats (bresaola, salami, prosciutto, basturma, pepperoni) that have been cured and dried along with some crostini, pickles, hummus, and whole-grain mustard. A great platter to split amongst a party of 2-4 people, treat this as a kind of appetizer to your appetizers.
In terms of hot appetizers, I'd recommend the Crispy Beef for the patron who is looking for something that is simple, but executed well. Wide, flat strips of marinated filet mignon are flash-fried thai style and served with dual dipping sauces (garlic aioli and sweet chili). The texture of the beef has a wonderful light crisp without being crunchy and both dipping sauces are worth trying and are quite complementary to each other.
If you're a little bit more adventurous, try the Crispy Sweetbreads. Seasoned and pan-seared, these delicious bites are lightly breaded to create a firm outside with a delightfully delicate center. The risotto that comes beneath the sweetbreads is a nice accompaniment and the raspberry glaze adds a sweetness to the dish that really brings it together.
While Yakar is primarily a steakhouse, some of their other offerings are certainly noteworthy. The Baby Lamb Chops would make a worthy choice for somebody who might be in the market for something other than steak. The four pieces of grilled lamb are juicy and tender and come with a side dish of your choice. If you're finding that choice hard to make, I suggest you try the Grilled Asparagus. It might not be a flashy choice, but this was likely the best asparagus I've had. It was perfectly crunchy, well-seasoned, and served with a wedge of lemon on top for just the slightest hint of acidity that added a great punch as a finish.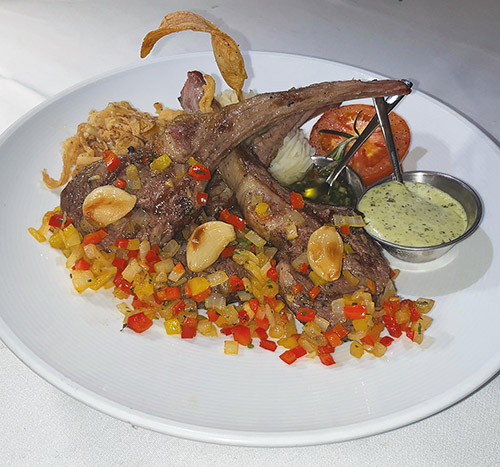 Let's be honest, most people are coming to Yakar to order steak. They only use top quality USDA Prime beef and that's a pretty big draw for a certain crowd that is going to appreciate the difference. With a good selection of cuts on the menu, there are a lot of different avenues you can choose. Most people might not select it, but I'm going to recommend the Skirt Steak.
For those who might not be familiar, skirt steak is a very thin and lean cut of meat that is known as one of the most flavorful pieces of meat the animal has to offer. Because of how the salting process works for kashrus purposes, kosher skirt steak is often quite salty and is off-putting to some. But this version is not that. It has all the flavor and a great texture (hard to accomplish with thinner cuts of meat) that make for a mouthfeel you won't soon forget.
When it's time to think about ordering dessert, don't think, and just order the Chocolate Soufflé. Made in house, the soufflé itself is everything you want it to be. It's rich, yet slightly fluffy. It's served hot, but is served with a scoop of vanilla ice cream. It's big enough that you could share it, but so good you'd rather not. Do yourself a favor and grab this perfect exclamation point for your evening out.
Yakar is still a place with top bakar products, but it seems like it's been improved to make your experience slightly more yakar than most other places. I suggest you become a customer, even if that might lead to you trying to buy the place. The trip is worth the risk.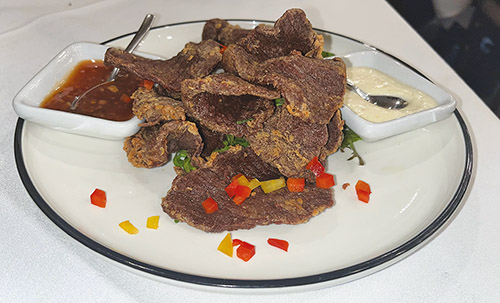 ---
Nati Burnside is a freelance writer living in Fair Lawn and is a man of many interests. He can be reached at [email protected].