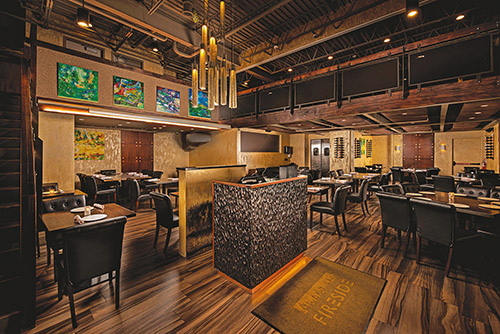 Fireside has been around for more than seven years and is still going strong. But whereas they originally opened as the sole high-end option in the Monsey area, they now have quite a bit of competition.
So why stick with the old favorite? Well, over the years, they've expanded their space to include more seating and party rooms to better service the community. They've also upped their game with an impressive array of cocktails that include housemade ingredients such as ginger beer and raspberry syrup. The ambiance is still a great one for any kind of fun night out.
But when I was invited to Fireside, I was there with one goal in mind—The Meat Board.
That's not to say that there aren't other things on the menu that are worth going for, but The Meat Board is a truly unique item in the kosher restaurant world. Is there maybe some place that could make you something similar? Sure, but it's not already on the menu, staring back at you as you sit across from the only other person you came with as you think to yourself, "I wish I had enough people to order that thing…"
The logical conclusion? Get yourself a crew and embrace the evening. This might mean a group of friends you don't see that often. Or maybe it's a handful of couples where you always see each other on Shabbat and say you should get together at a restaurant, but you never do. Whatever the reason, The Meat Board is going to make the night feel like something great is happening.
Before we get to the main event, what about appetizers? Well, that depends on how many people you have and how hungry the group is. I'd say that if you were a group of six big eaters, you could take down the board if that was your whole meal.
Eight people is a more reasonable number to eat the board (and only the board) as there's certainly enough food there for eight people to walk away full. But a group of ten might be optimal for a few reasons.
Firstly, you can split some of the appetizers. I wouldn't be too overzealous given the incoming board, but if you're going to order something, here are a few recommendations.
It might sound insane given some of the more exotic choices, but go for the Beer Battered Chicken Fingers. With a flight of three dipping sauces, you'll marvel at the amazing fluffiness of the meat and the lightness of the coating. The beer batter really sets them apart from the standard.
The Gravy Fries are also not to be missed. While many places try to make some version of the French Canadian street delicacy, few end up with a product that is truly memorable. In this case, the garlic aioli and beef gravy come together to make a creamy base that is then topped with pieces of smoked beef. With more options for loaded fries than ever, this is a noteworthy version.
On to the main event: the board will come to your table carried by two servers who will place it on metal stands capable of supporting its significant weight. You'll likely be taken aback by the initial sight, but that shock will abate rather quickly as your plate yearns to be filled with an assortment of the delicious edibles that sit before you.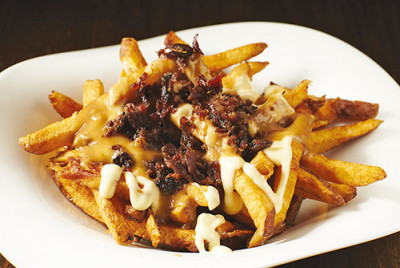 Having The Meat Board at your table is like having your own awesome private buffet. It features multiple types of steak, including their massive two-person tomahawk, a delicious pepper-crusted delmonico and a beautiful chimichurri skirt steak. Other entrees from the menu that are on the board include the remarkably tender fruit-glazed short rib, a triple portion of the savory chicken marsala and a double portion of their famous skillet pastrami.
Then there's the stuff that isn't on the regular menu but is made special just for the board. A succulent veal chop and an entree-sized portion of tangy barbeque boneless ribs are welcome additions. The veal chop alone might be reason enough to order the board. There's also an off-menu heap of tasty lamb bacon to enjoy.
With all the meat involved, you might (or might not) be asking where the carbs and vegetables are. Well, there's a decent amount of creamy smashed yukon potatoes, whatever the seasonal vegetable is (currently string beans), and a bowl of house slaw. Last, but certainly not least, is your choice of one of the meat pizzas.
For those unaware, Fireside is the birthplace of the kosher restaurant meat pizza craze. They offer three types of pies and each one can be made with a thin crust or deep dish style. I recommend the deep dish above the thin crust and both the original and the East Side are great choices. If you can't decide, get one as an appetizer so you can try both.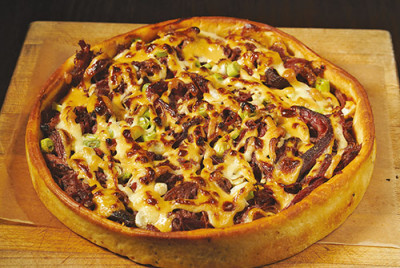 If you somehow still have room, Fireside also has a Dessert Board. While it says it feeds four, that might be a low estimate if you've just devoured The Meat Board. It might be a nice final treat for those with a sweet tooth to cap an amazing night out.
It's got lava cake, creme brulee, mousse, ice cream, zeppoles, cake, macarons, a waffle with toppings, fruit and a whole portion of cotton candy. Similar to The Meat Board, you just can't get everything from this selection by ordering off the regular menu.
Why not just use items already on the menu? Because Fireside's management finds it creatively challenging to choose what goes on these boards and using some off-menu items makes it more fun. That challenge is one they embrace as they truly enjoy catering to large groups. And while the $619 price tag on The Meat Board (and $95 for The Dessert Board) might make it hard to pull the trigger, I'd estimate that you're getting a 25%+ discount off of the prices if everything could be ordered individually.
So next time you're planning a sizable get together and you're looking for an upscale yet fun setting, now you know where to go. There's nothing like feeling the envy of the other diners when they see The Meat Board approaching your table.
Do the responsible thing. Share that feeling with as many people as you can.