Many of the fanciest kosher restaurants have a bar in this day and age. In fact, it's almost hard to get by in the high-end kosher space without spending real time, effort and money developing a cocktail menu that will make people feel like the drinks can pair with the quality of the cuisine.
But having a bar be a focal point of a kosher restaurant is pretty uncommon. One of the few places where that's the case is Davry Restaurant & Bar in Brooklyn. In case you thought that the bar being a main feature means that the food is an afterthought, I'm here to tell you otherwise. The vibe at Davry is cultivated by the bar, the food and the screens.

The bar is fully stocked. They have more than two dozen cocktails ($15 each), multiple options for bottled and draft beers ($6-$7), a handful of wines ($10 per glass), and about three dozen hard liquors that can be purchased by the shot. Let's just say you have plenty of options if you want to go down that road.
Speaking of options, with more than a dozen screens, Davry likely has whatever sporting event you might want to watch. With football season coming up, you'll want to make reservations if you plan on going any time between Thursday and Monday. Beyond that, they buy noteworthy pay-per-view events and stay open until the end of games in the playoffs for the NBA and MLB (even if those games are on the West Coast).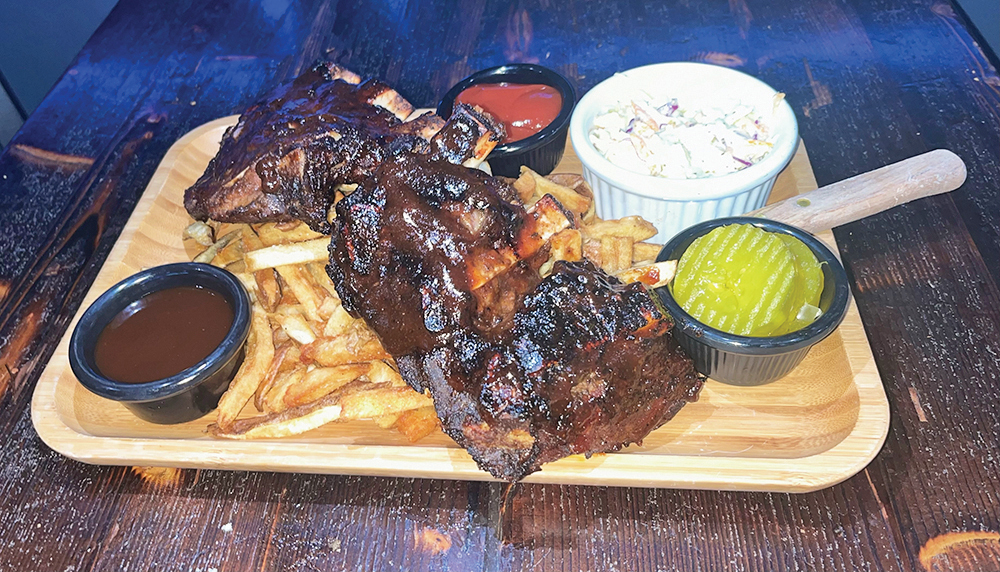 Almost all of the kosher sports bars closed during COVID for obvious reasons. No sports and the screens being indoors was a recipe for disaster. Davry was closed for almost two years before it reopened fairly recently. Now they are putting an emphasis on hosting all types of events and groups who are looking for a fun night out. They offer many levels of packages and have become a real destination.
When I was invited to check out the new and improved menu at Davry, I was impressed with some of the new items that had been recently added.
Arayes have been making their way onto more and more menus recently and I've had quite a few different versions. The ones at Davry are certainly close to the top. A key component is the thickness of each piece which allows the meat to carry a juiciness similar to a plump hamburger. They also do a nice job making the pita exterior crispy and the drizzle of tahini offers a great cooling factor. It comes with extra tahini on the side as well as an amba aioli that is rather interesting and might be a huge hit depending on your preferences.
The Honey Glazed Chicken Tacos are also a recent welcome addition to the menu. These soft tortillas with pieces of grilled chicken are accompanied by a base of purple slaw, onions, a slice of avocado and a house dressing. A nice change of pace from some more common taco appetizers, these have a great balance of different flavors and textures.
The last of the noteworthy newcomers I want to recommend is the Ultimate Wrap. It's uncommon to find a wrap of this nature on a menu that isn't full of wrap options. Most places that carry only a couple of wraps will have the same two or three. But this is a deli wrap with some real flavor. A mixture of turkey pastrami and honey smoked turkey is paired with some greenery (lettuce and avocado) and a sauteed mixture of peppers and onions. This wrap looks almost as good as it tastes as it's packed with flavor but is still a lighter option than most things on the menu.
If you're willing to go for something a little heavier, I'd suggest the Crispy Chicken Sandwich. With a large fried chicken breast stationed in a sturdy roll, it's hard to go wrong. The purple slaw, dill pickles and chipotle mayo add great components of crunchiness and tanginess with just enough heat to get your attention. With the fried chicken sandwich wars dying down in the treif fast food world, taking a bite of this beauty will provide you with a longing for a kosher version of that battle for poultry perfection.
While all the previous items I've mentioned are great choices, sometimes you just want to go all out. And one of the great things about Davry is the portion size you get for the price point. This allows you to order the king of all sports bar items, BBQ Ribs, and have it not wound your wallet too badly. You get a whole rack of ribs (sous vide for 18 hours) served on a bed of fries with sides of coleslaw and pickles. There's nothing fancy about these, but there doesn't have to be. Ribs are one of those things that restaurants struggle to put on menus because of how difficult they are to eat (especially BBQ ribs due to the sauce). But this is a bar. There's no white tablecloth. There's no worry about judgment. There's just you and your ribs, and sometimes that's all you need.
Whether you are going to catch a game, hang out with a few friends or planning a social event, Davry is surely a place to keep in mind. The vibe is certainly different from most kosher restaurants. And that might just be your thing.
Davry Restaurant & Bar
Meat – Sports Bar – Waiter Service
Sunday-Thursday: 5 p.m.-12 a.m.
Saturday: 9 p.m.-2 a.m.
(718) 682-3814
722 Kings Highway
Brooklyn, New York 11223
Kosher L'Mehadrin (KLM Kashrus)-Rabbi Binyomin Taub
---
Nati Burnside is a freelance writer living in Fair Lawn and a man of many interests. He can be reached at [email protected]